Scholarship & Youth Programs
Each year we honor deserving graduating high school seniors with scholarships to help them further their art education. The Association also provides funds for art supplies to support teachers in our San Clemente schools.
Scholarship Awards were presented during the
20th Annual Paint San Clemente Gala
Stephanie Dorey Memorial Art Scholarship
The Stephanie Dorey Memorial Scholarship was awarded to Retaj Ridha.
Kathryn Taylor Pease Wave Foundation Fund 1 and Fund 2 Scholarships.
Both are donor-advised funds of the Orange County Community.
The Kathryn Taylor Pease Wave Foundation Scholarships were awarded to:
Tanner Salgado and Magdalena Alexander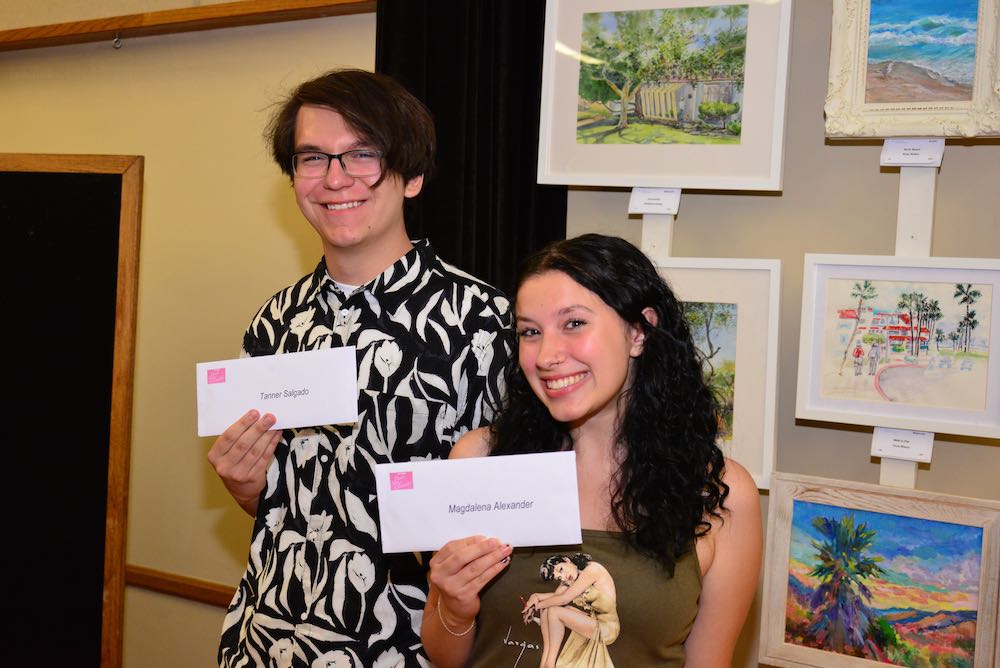 —————–
San Clemente High School seniors who are currently enrolled in a SCHS art class and have a minimum 3.0 grade point average are eligible. Scholarships will be awarded in recognition of student's academic achievement in visual arts, both two and three dimensional.  Applicants are asked to provide a portfolio of 3 or 4 photographs of their artwork and a written statement about themselves.
Funding for grants is made through kind memorial donations by the Kathryn Taylor Pease Wave Fund (administered by Orange County Community Foundation), Pam Hill Scholarship (administered by San Clemente Art Association) and an additional memorial scholarship is provided in the name of Stephanie Dorey, San Clemente art supporter.
FOR MORE INFORMATION CONTACT:
[email protected]
Or SCHS Academic Advisors