Scholarship & Youth Programs
Each year we honor deserving graduating high school seniors with scholarships to help them further their art education. The Association also provides funds for art supplies to support teachers in our San Clemente schools.
Scholarship Awards were presented during the
18th Annual Paint San Clemente Gala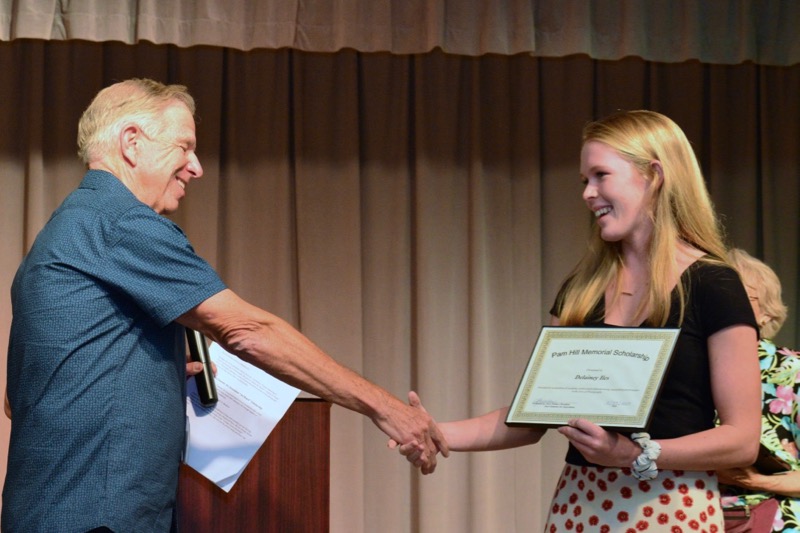 The San Clemente Art Association Pam Hill Memorial Art Scholarship
Delainey will be majoring in English and minoring in Photography. She plans to obtain her master's degree in Visual Arts or Photography, pursuing a career in Photojournalism or professional photography and maybe one day educate others about photography.
Stephanie Dorey Memorial Art Scholarship
Dominique is focused on majoring in Landscape Architecture. She has a growing passion for helping the environment by incorporating her designs and models that work with the natural landscape to add richness of the earth, rather than paving over it.
Kathryn Taylor Pease Wave Foundation Fund 1 and Fund 2 Scholarships.
Both are donor-advised funds of the Orange County Community.
Emma will be studying communication design. She has set goals to ensure photography is a part of her future aspiring to become a photojournalist.
Rian is interested in majoring in bio-engineering. This Science, Technology, Engineering, and Mathematics degree has unique options for postgraduate education in the engineering or medical field. Setting his sights on possibly becoming a doctor and /or Bio Engineer.
Clarissa will be majoring in Paleontology in the honors program. Her ultimate goal is to be a scientific illustrator that focuses on paleoart.
Jonathan is interested inFilm and Media Arts, majoring in Advertising and Public Relations. He is looking forward to many courses specifically about using sound and images to communicate and promote an idea.

—————–
San Clemente High School seniors who are currently enrolled in a SCHS art class and have a minimum 3.0 grade point average. Scholarships will be awarded in recognition of student's academic achievement in visual arts, both two and three dimensional. Applicants are asked to provide a portfolio of 3 or 4 photographs of their artwork and a written statement about themselves.
Funding for grants is made through kind memorial donations by the Kathryn Taylor Pease Wave Fund (administered by Orange County Community Foundation), Pam Hill Scholarship (administered by San Clemente Art Association) and an additional memorial scholarship is provided in the name of Stephanie Dorey, San Clemente art supporter.