Best of Show Recipients
2017 Winter Judged Show
Sunset Surfing
Kathleen M. Robison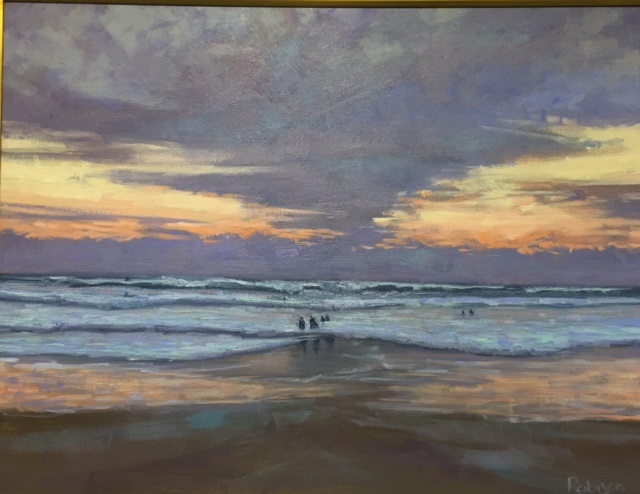 ---
Fall Best of Show
Old Growth
Deborah Weinstein
Deborah Weinstein has been deeply engaged in photography, drawing, and painting since her years at Antioch College where she completed an independent study in art. She continued with these interests throughout her years raising a family in Kibbutz Ein-Dor, Israel, and later in Chicago, Illinois, with her activities focused around the Evanston art scene. She has been painting full-time in her studio in Laguna Canyon Road since 2008.
Deborah is primarily a figurative artist, whose personal engagement and delight with all of her subjects is reflected in the unique story that she seeks to relate in every painting and drawing. Visitors to her studio invariably respond with a smile at the vitality, variety, and humanity of the works on the studio walls, a kind of floor-to-ceiling steriopticon of children, parents, couples, old people, all of them caught in some unique and personal moment. And a myriad of figure studies –  leaping, whimsical, studious, distracted, diffident, tough, tender, blushing, blooming, and some, inevitably, reclining. But all of them shown in their unabstracted moments, informed by the artist's sense of human connection to them. People are beautiful and difficult. That is the point.
Deborah's studio is located at 3251 Laguna Canyon Road, F5.
---
Summer Best of Show
Headlands
Ron Peterson