Edward Miltimore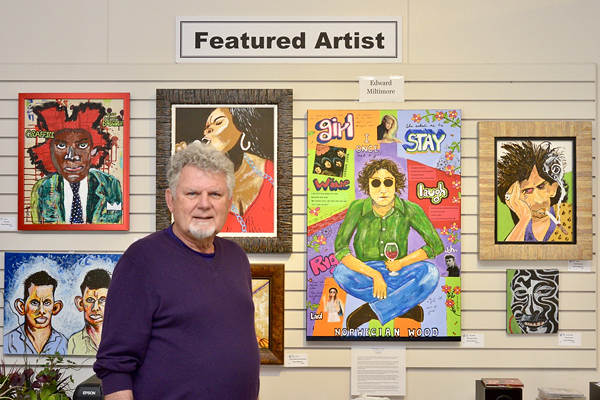 [email protected]
(714) 306-1725
Ed is available for commissioned work.
I was born in Germany at the end of World War II. My Dad was in the army and my Mom was a Polish girl working in Germany on a dairy farm. They could both speak a little German, but mastered the language of love* lucky for me!
I have traveled both major oceans by ship. The first time I crossed the Atlantic as a four-month old infant coming to the United States on a transport ship with my Mom. We came into NewYork, right past the Statue of Liberty. Then by train to Waukegan, Illinois, where I grew up and attended school. The second time I crossed the Pacific on a ship with 3,000 of my Gl buddies. We were on the last ship that carried troops to VietNam. After my voyage, they flew people over and stopped sending complete units over in groups. Neither of these trips impacts my thinking or my paintings, as far as I know. After returning from military service, l got married, had two children and then moved from the Chicago are to Southern California to escape the snow and depressing winters. I now live in Laguna Niguel.
I have enjoyed creating art since using crayons in grade school. I never really devoted much time and effort to creating art until I retired, although I had been painting for years as a hobby and escape. I had a career as a computer programmer and manager/director in lnformation Technology. Designing computer systems and creating computer programs does have a creative aspect but the criteria for success is pretty rigid.
In terms of art, I am self-taught, although I have had classes in oil painting and clay. I work with acrylics and enjoy the fact they dry quickly and can be layered. My favorite subjects are people and faces. Much of my approach to art and painting is based on the subjects and techniques used by some of my favorite painters, such as Picasso, Egon Schiele Todd White and Clifford Bailey. Because I love music and dancing, many of my subjects, come from these areas. I am drawn to art that brings a smile to my face or that provides a nice surprise. Most of my pieces are done from pictures/drawing that amuse me.