Bill Gibson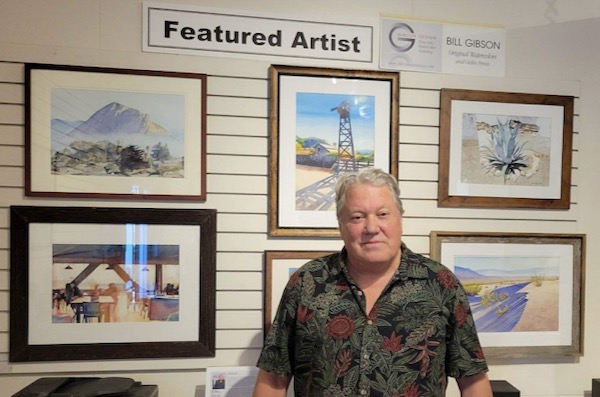 Bill Gibson is a graduate of California State University Fullerton with a major in Art (Graphic Design) and has been a professional graphic designer and owner/partner in an advertising agency for over 30 years. Bill took up watercolor painting about seven years ago after discovering that fine arts painting uses the same fundamentals of design as it takes to create an ad, a brochure, web or other forms of graphic design. Composition, balance, contrast, texture, values, and color are all similar considerations when I produce a watercolor painting.
Bill's work has been displayed in several venues in Southern California including the Forest and Ocean Gallery and The Q Gallery in Laguna Beach, the Fallbrook Avocado Festival, the Laguna Woods Community Center, The Mission Viejo Library, and the San Clemente Community Center. He has won several awards in shows for the San Clemente Art Association, the Saddleback Art League, and the Laguna Woods Art Association. Most recently, he won first place for the 2018 "Paint The Lake" art exhibit during Lake Mission Viejo's "22nd Annual Jazzfest and Taste of the Lake." Allpaintings shown here are original compositions and have won various award ribbons.
Bill loves to travel with his wife Lynn, also an artist. He finds that it permits infinite possibilities of subject matter for his artistic mind. He prefers painting in a representational style of scenes that offer dramatic lighting and unique compositional features.